My summer began in a rather inauspicious manner with a round of bronchitis that lasted the better part of 3 weeks. Long story, the highlights of which are a history of previous episodes, the discovery that I am highly allergic to marijuana smoke, which lead to an asthma attack, which promptly turned into bronchitis, and Deborah in her inimitable fashion had not one but two relapses. Only one of which was my fault for doing too much too soon. (I am now the proud possessor of the relevant inhalers.)
Enough whinging (British friends: is that the right word?) One of the very, very few upsides of this illness was that I had to stay in bed. A lot. After the initial phase of sleeping all day, I started reaching for my pile of To Be Read books. Ah, books! How would we get through bed rest without them? Here is a sampling of the stories that helped me through the tedium:
Judith Tarr: Kingdom of the Grail. I'd picked this up at Powell's Books, that amazing bookstore in Portland OR (see below), and then got distracted by other things. It's historical fantasy, with the emphasis on a wonderful blending of fantastical elements. We all know the story of King Arthur and the Holy Grail, right? Tarr sets her story not in King Arthur's time but that of Charlemagne, with one of the King's Companions, Roland, as the hero. Add much Grail-centered magical subterfuge, an ancient evil bent on acquiring the Grail, and a sorceress who transcends time and culture. Oh, and a love story. Of course. Oh, and some very nifty horses.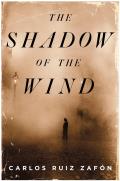 Carlos Ruiz Zafón: The Shadow of the Wind. This gem was on my husband's TBR shelf, and I almost didn't pick it up because of the mainstream-looking cover. Imagine my delight when the story opens with a visit to "The Cemetery of Forgotten Books," where you get to choose one book, just one book from the thousands of musty volumes, that you promise to keep alive, to make sure it never disappears. For the narrator, that book is The Shadow of the Wind, by Julián Carax, and from the very first paragraph, his life is never the same. Especially when a mysterious figure appears, bent on destroying every copy of every book Carax wrote, all of which were dismal publishing failures so they're rare collector's prizes anyway, not to mention addictive. After a while, the story devolves into part mystery, part suspense thriller, but that opening, which spoke so eloquently about the magical power of books, had me hooked. It's not exactly fantasy/science fiction, but it's definitely one for us book-loving fanatics.
Jo Walton: My Real Children. An elderly woman who lives in a nursing home suffers from
confusion. Does she have four children…or two plus a beloved stepchild? Is the door to the right or the left? Is this dementia…or something else? Once her life was one stream of events, until a single decision changed everything. This sounds like your usual parallel-universe story, but the focus is on the intimate, everyday lives and relationships of the women she becomes, executed with such nuanced sensitivity that when you're inside the story, it feels like it's real history. For all its domesticity, the book moves right along. I loved every page of it.