Just in time for Valentine's Day,
Lace and Blade 4
offers a bouquet of sensual, romantic, action-filled stories. Order it from
iBook
,
Kindle
,
Kobo
,
Nook
. The Table of Contents is
here
.
Deborah J. Ross:
Tell us a little about yourself. How did you come to be a writer?
Carol Berg:
I grew up reading classics, mysteries, fantasy, science fiction, adventure stories, and spy thrillers, but never imagined I could ever write one for myself. Instead I majored in math, had a short stint as a teacher, had a family, got another degree--this time in computer science—and was halfway through a software engineering career when a fellow engineer (and good friend) convinced me to write a series of letters "in character" so she could practice her writing. It was so much fun, I couldn't quit! After a number of years writing novels just for myself, reading an article about writing now and then and revising with the newfound knowledge, I wrote a story that was most definitely the best thing I'd written thus far. It felt as if I'd made a huge step forward. My friend agreed, and we stuck our toes in the publishing waters by attending a writers conference. A year later I'd sold three books to the publisher who's bought them all so far.
DJR:
What inspired your story in Lace and Blade 4?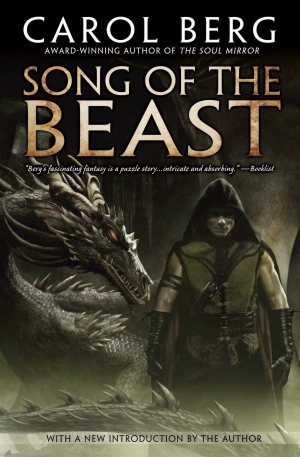 CB:
One of my aims when I create new heroes or heroines is to make them real people. I want readers to believe they had a life before walking onto the canvas of my story and will (if the story permits!) have a life when they walk off again. But of course, after the traumas/losses/victories of the story, the nature of that life is often irrevocably changed. Ever since my novel Song of the Beast was published, I've had readers asking what became of Aidan McAllister--a scarred, broken singer of visions, who saved his world from the scourge of dragon warfare. At the end of the story, he abandons his friends and his hope of a normal life to lead the beasts into the wild. I decided that it would be fun to satisfy the readers' curiosity and mine, and so I wrote "The Heart's Coda. "
DJR:
What authors have most influenced your writing? What about them do you find inspiring?
CB:
So many! One of the first was Mary Renault, who took the mythological hero, Theseus, and the historical myth, Alexander the Great, and wrote them as fascinating, flawed human beings in worlds that felt real and true. Another Mary--Mary Stewart--showed me the epic story of Merlin and Arthur through a very human Merlin's personal lens. And then there's Ellen Kushner, who created true magic with exquisite prose and deep emotion in her novel, Thomas the Rhymer. Alongside these three are many mystery and thriller writers like Dick Francis and Len Deighton who instilled a love of complex stories and exciting adventures, and fantasy writers like Roger Zelazny and Poul Anderson who taught me the delights of building magical worlds.
DJR:
Why do you write what you do, and how does your work differ from others in your genre?
CB:
Fortunately, I've been able to write the stories I love to read--complex, twisty, filled with mysteries and magic and events with big stakes. I love making my secondary worlds intensely real, and developing characters who are as complex, twisty, and surprising as the plot, so that one can reread the stories and discover new pieces. I strive to create immersive fiction, where the reader feels deeply drawn into the story action, experiencing the action along with the characters, not just reading about it. Thus, despite portraying events that are epic in scale, I use the very personal lens of a single narrator (or two.) I have a fondness for certain tropes of the genre—like portals and parallel worlds, an occasional dragon , as well as the fae and flawed heroes who are not quite sure of their place in the world. I like to think I turn all those tropes on their heads.
DJR:
How does your writing process work?
CB:
I'm an organic story developer, that is I start with a character in a situation and enough thinking about the world, cultures, and characters to put down the first scene. The act of writing that scene gives me ideas for moving forward in plot, characters, and world development, so that by the time I'm halfway in, I've got lots of notes about what needs to happen next. Every day, I read what I wrote the previous day, getting it right enough I can charge forward toward a climax that, so far, has made itself apparent by the time I get there. Revision is my friend and delight!
DJR:
What have you written recently? What lies ahead?
CB:
My most recent novels are the two volumes of the Sanctuary Duet: Dust and Light and Ash and Silver, the story of a sorcerer/artist whose portraits set off a political firestorm in a war-riven kingdom, propelling him into a destiny he had never imagined. Since I finished that series, I've been dabbling with short fiction related to my existing worlds (five worlds to date). Besides "The Heart's Coda," I've just had a Navronne story called "The Book of Rowe" published in an anthology titled Hath No Fury. I've also written a novella set in my Rai-kirah world and a short story set in my Collegia Magica world, and hope to find a suitable home for them. Meanwhile I'm developing a new mythos and a new cast of characters for a new long form series.
DJR:
What advice would you give an aspiring writer?
CB:
Read, read, read. Write, write, write. Learn the craft. Think deeply, then think again--harder. Persist. Be proud of what you write.
Former software engineer Carol Berg never expected she could write one novel, much less fifteen. Nor did she expect to be a three-time winner of the Colorado Book Award or to hear that her books had been read on the slopes of Denali, underneath the Mediterranean Sea, and in the war zone of Iraq. And she certainly never expected to see her name in the winners' list for the Mythopoeic Fantasy Award for Adult Literature alongside those of her literary heroes Mary Stewart, JRR Tolkien, Neil Gaiman, and Patricia McKillip. Her novels, like the quasi-Age-of-Reason double-agent, murder-mystery series called the Novels of the Collegia Magica, regularly receive starred reviews from
Publishers Weekly
and
Kirkus Reviews
, using words like compelling and superbly realized. Carol lives and writes in the foothills of the Colorado Rockies and on the internet at <
www.carolberg.com
>