Last year I began this series on "the stories behind the stories" in this anthology of marvelous fantasy stories I was privileged to edit. I got about halfway through when life in the form of writing deadlines intervened. So I'm going to repost them and hopefully finish the series, then put them together in a companion volume. to
The Feathered Edge.
Lace and Blade
, and now
The Feathered Edge: Tales of Magic, Love, and Daring
) is the synchronicity -- or parallelism -- or "great minds work alike" thematic resonances. The first had 2 stories about Spanish highwaymen, and the second had 2 stories with Chinese generals. I'm not in the least surprised, but I am delighted and a bit awestruck by the way life works. The cover for
The Feathered Edge
could illustrate either this story or Sean McMullen's "Culverelle." You get to pick.
A Wind In Cairo
when it first came out. The horse got me into the book, as I'm a sucker for well-written horse characters, but the sheer mastery of storycraft, the depth and nuance, the use of language, all kept me wanting more. None of this should come as a surprise. Judy knows more about horses than any ten fantasy writers put together, and what she doesn't know, one or another of her nine amazing Lipizzan horses will enlighten us about. She's written the best guide to horses in writing I've ever seen,
Writing Horses; The Fine Art of Getting It Right,
and if you are a writer and need a horse in your story, it's a must-read.
Capria and Khepera
The other thing about Judith's work is that her careful attention to detail -- the kind of detail not for detail's-sake but that evokes a vivid world beyond the page -- carries over to historical background, culture, world-building, and character. You can read a sampling of her short work free on
Book View Cafe here.
I've never read anything of hers that's remotely generic, even when it falls solidly within a genre. Her "Alamut" books were among the first to portray Muslim cultures in a positive, yet humanly complex way.
One of the self-indulgent luxuries of editing is being able to contact the writers-of-my-dreams and say, "Hey, want to come play?" It takes a certain amount of
chutzpah
, it does. So I asked. Judy said yes, and sent me this wonderful, sweeping, heroic tale that reminds me of the best of the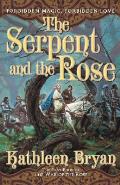 women-martial-arts stories from Marion Zimmer Bradley's
Sword & Sorceress
series. Judith's heroine is no bronze-bikini-clad superwoman, but a character set firmly within her world, with hopes and disappointments and family obligations, cognizant of both her strengths and her limitations. And The Horned King, oh my! You'll just have to read to the story...
The Serpent And The Rose
, under the pseudonym of Kathleen Bryan.
Living In Threes
is now available from Book View Cafe. You can read a
sample here.
The beautiful photo of Capria and Khepera is by Lynne Glazer, used with permission. See more of her work
here: